User Account Control (UAC) on Windows Vista/7/8
The UAC prohibits ActiveX controls from accessing the hard drives and the files required by ActiveX are saved in the temporary folder. To resolve this problem, please follow the steps below to turn User Account Control off:
1. Go to 'Control Panel'.
2. Click 'User Accounts'.
3. Click 'Turn User Account Control on or off'.
4. Uncheck the UAC option. Click 'OK'.
Trusted Sites on Internet Explorer
If you don't want to Turn User Account Control off, please add the IP address of NVR to trusted sites on Internete explorer.
1. Open Internet Explorer by clicking the Start button . In the search box, type Internet Explorer, and then, in the list of results, click Internet Explorer.
2. Click the Tools button, and then click Internet options.
3. Click the Security tab.

4. Now click on Trusted sites and then click on the sites button.
5. Enter the Website URL and click on Add.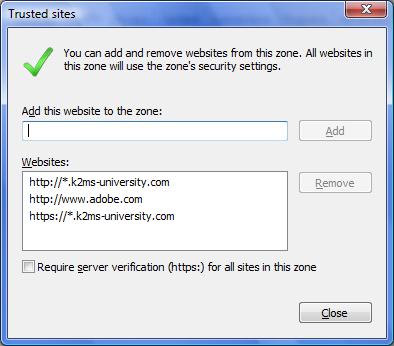 6. When you are finished, click on Close.
You can now use the 'convert to AVI file' and snapshot functions.